Archive for 'Vendors'
Gorgeous flowers by Rod Meek for a fabulous bridal portrait session this week.  I can't show you the bride's pictures yet as my policy is to not display bridal sessions until after the wedding has occurred (dont want to ruin the bride's big moment!), but thought the flowers were worth their own post!
What an amazing time we all had photographing what will hopefully be the cover of the next Central Virginia Bridal Guide!  Caitlin won the Bride of the Year at the luncheon earlier this year and was the perfect model for us!  She used her actual dress for her upcoming July wedding so we can't show you any of her pictures but here are some detail images from the shoot styled by Sandra from RS Exclusives.
credits
styling: R S Exclusives
flora: Doyle's Florists
dress: Church Street Bridal
tailoring: The Gilded Thimble
shoes: Must Have Shoes
hair & makeup: Emily Garbee @ Bodyworks
This was one of the locations we used!

Watching 15 balloons emerge from Sandra's car was something else!

Sandra from R S Exclusives

Sandra provided the stunning ikat fabric

bridal bouquet with orange and pink from Doyle's

do you notice a trend with the number 15?

our shoot went into the night so Sandra provided us with gorgeous lighting

and thanks again to our wonderful bride,  Caitlin! You rocked it!

You may remember when I did a Fireside Review of Historic Riverview?  They held their official grand opening the other afternoon and the rain was kind enough to stop and the sun was nice enough to break through!  Good thing since I only brought my i phone with me!  Enjoy these little snapshots that hopefully help show what a gorgeous location this is!
Owned and operated by the Proctor family
credits
Venue: Historic Riverview
Delicious Catering: Charley's
I think I'll let the wonderful folks from West Manor tell you about their special place – then I'll share some photos from the grand reopening!
Tell us about the history of West Manor
West Manor was built in 1823 by architect Thomas Poindexter, who also built the original St. Stephen's church on Perrowville Road.  Thomas lived at what was actually called "Waverly" with his wife and 3 daughters Sallie, Margaret, and Virginia.  Upon Thomas' death Mrs. Poindexter married Rev. Robert Thomson, who used some of his wife's funds to start the first Lynchburg College in Lynchburg.  Margaret was married at Waverly and built a house on the property, and Sallie married Capt. Thomas West, a Confederate veteran, at Waverly as well on May 21, 1868.  They later moved into the main house that we currently refer to as "West Manor."  Virginia, the only Poindexter daughter not to marry, is honored with a statue on our front lawn.  As guests approach she is there to greet them and look over our weddings. 
The marriage of Sallie to Thomas West produced 10 children, and all but one, Eliza Burton West, who died at 9 months, were married on the farm.  The home was passed down from generation to generation until 1976 when Jack Lester purchased the farm with his son Greg.  West Manor was a working dairy farm from 1823 until 1994 when the dairy was sold.  It was at this time West Manor Bed & Breakfast was established.  We began hosting weddings for the public in 1999, built our formal ballroom in 2000, followed by our gazebo and formal garden ceremony site in 2001 and conservatory in 2004.  In 2011 John and Jill Fees purchased the property, renaming it West Manor Estate, and renovated the grounds and interior, adding a completely glass enclosed Atrium for indoor ceremonies or cocktail hour.  Weddings run deep on our history and it is our goal for each family who experiences an event with us to leave feeling a part of some thing special.
How many guests can West Manor accommodate for a wedding?
 We can accommodate up to 225 for a seated dinner, 250-275 for a cocktail style reception. 
 What makes West Manor special/different compared to other place?
 There are so many reason why I love West Manor, but far from that there are just so many great logistical reasons to host your event out here.  The first is that it is quintessentially Virginian.  With it's red brick exterior, rolling hills, and mountain views, there is no place like it, and with such quick and easy city access, it's not inconvenient to your guests.  Because it is a home, guests feel comfortable and relaxed in our environment.  I always say it is like having a wedding at home, that you don't have to cook and clean for!  And of course the space!!  From the gardens to the conservatory, the ballroom, atrium, and house, there are so many places to set up and places for your guests to go, explore, and enjoy.  Instead of being in one room all night, guests are free to have cake and coffee in our comfortable living rooms, situated right off the ballroom so they aren't missing a thing, or wander the lantern light gardens at sunset.  Best of perhaps is that brides don't have to worry if they wake up and it's raining on their wedding day, they know a. West Manor is taking care of everything, and b. we've got this amazing glass room for her to move in to that is separate from her reception space, but still allows her to feel outside, minus the wet rainy mess.  Winter brides who still appreciate the scenery and views can have that outdoor feeling ceremony, but with warm guests.  As well as the beauty in the setting we also focus heavily on the quality of the food we produce here at West Manor.  With the new ownership came a new approach to the food that we serve our clients and their guests.  We have partnered with chef Michelle Hamrick from Gerald's restaurant, and she will be executing the culinary side of our events.
 Is there anything else about West Manor that you would like to share?
I guess if there was anything else I would want people to know is that on top of getting a beautiful venue and great food, you're going to get great service.  Each wedding is just as important as the one before and the one after.  I get one shot to get this day right and that thought is never far from my mind.  I also know that there are a lot of fabulous venues in our area and I am lucky when a bride books with us.  Picking your venue, especially when we provide the food, can be an overwhelming decision and one that should not be taken lightly.  Just like picking your wedding dress, your site should reflect your style and feel.  But when you do decide to have your wedding with us, you should know that we will take care of every worry, every detail, everything with the same detail and care you would if you had the time.  Weddings have been in the West Manor family for almost 190 years and it is our goal to treat you and your guests as our own family.
Allegra back again! Wow as you can see there is a lot of history in this place! I can tell you from my complete tour before the grand opening that West Manor has been transformed! The home features elegant antiques and now has a much more sophisticated flair. The new Atrium proved itself as the day opened up cloudy and rainy – you'll see from the pictures how much gorgeous light floods the space even on a grey day!  They have some very limited availability for this year and certainly if your wedding is next year, you'll want to hop on it!  Give them a buzz at info@westmanorevents.com to learn more!

I was honored to be the exclusive photographer for Central VA Bridal Guide's Bride of the Year Luncheon!  Hosted by the wonderful folks at Tresca on 8th, the Luncheon offered a variety of bridal vendors for brides to review while they enjoyed lunch from several caterers.  Stay tuned for a full list of participants and for now, enjoy some highlights below (I tried to get a picture of the vendor name BEFORE each shot so if you want to know whodunnit, just look at the picture before)  Click on the thumbnail to view full size.
I always love to hear about new places to host your wedding – I visited Jane Proctor out at Riverviews recently and admired her wonderful historic location RIGHT on the river!  But don't listen to me – let her tell you all about it!
On a hilltop overlooking the James River flowing by sits Historic Riverview on the James.  In the foothills of the Blue Ridge, this country estate has celebrated and extended hospitality to visitors for 4 generations. Today you can relax and enjoy the elegance of your wedding, reception, family gathering, festive time on the grounds of the 1873 house. We'll serve your guests cocktails from our original smokehouse.
Host your groom and groomsmen preparations in the groom's cottage, once a minister's study. The bride and her court and her immediate family can dress and prepare in the Georgian manor house.  Recite your vows, cut your cake, host your musicians in the large gazebo.  Toast, or host a grilling at our fireplace. Enjoy an evening fire there and see the stars come out.  The expansive views from Historic Riverview will relax and fill your guests and you with pleasure.  The river beckons and you can enjoy time along it at the broad riversite.  Your special event will have been fully celebrated and the sounds of the James rolling by will stay with you and your guests highlighting the special memories from your time along the James at Historic Riveriew.
I can imagine a country summer event with guests admiring the river views from atop of the hillside!  Check out those chairs just waiting for someone to sit and enjoy a mint julep!
The Trivium Estate and Conference Center re opened this year after a gorgeous renovation and upgrade provided by Moyanne.
Tell us about the history of Trivium
The Trivium was originally built in 1832 by Spottswood Brown. The Trivium originally served as a tavern catering to the families who would visit their sons attending the Bellevue School for Boys. The Trivium also once served as the home of the famous nurse, Virginia Henderson.
How many guests can Trivium accommodate for a wedding?
 The Trivium can accommodate an indoor reception for 150 seat guests or 200 guests served buffet style with floating tables.  The Trivium also has numerous outdoor locations that can be tented to serve larger receptions.
 What makes Trivium special/different compared to other places (why should they pick Trivium for their event?)
 The Trivium is different from other venues for a variety of reasons.  We offer a beautiful venue on 11 landscaped acres with private lake, a beautiful view of the Blue Ridge Mountains, all located in a convenient location. The Trivium also offers four different outdoor ceremony locations, including a pond side gazebo.  Our venue also welcomes outside vendors including caterers to help the bride and groom create their dream wedding day.
 Is there anything else about Trivium that you would like to share?
The Trivium strives not only to offer a beautiful venue but, also superior customer service.  Every member of our staff is excited to help with each event and is readily available to help on the big day in any way possible.  To truly grasp what The Trivium has to offer we invite interested parties to schedule a private tour.  We also encourage everyone to check out our website (www.thetrivium.com)  that offers photos of events and aerial video of our entire property.
The Trivium celebrated their grand opening this weekend!  They are under new ownership and have been spectacularly renovated by Moyanne!
Floral decor and centerpieces provided by Love is in the Air
Amazing food provided by Avenue Foods Catering
See all the images on my facebook page!
I just had to post this secret source for amazing silk (real silk!) florals!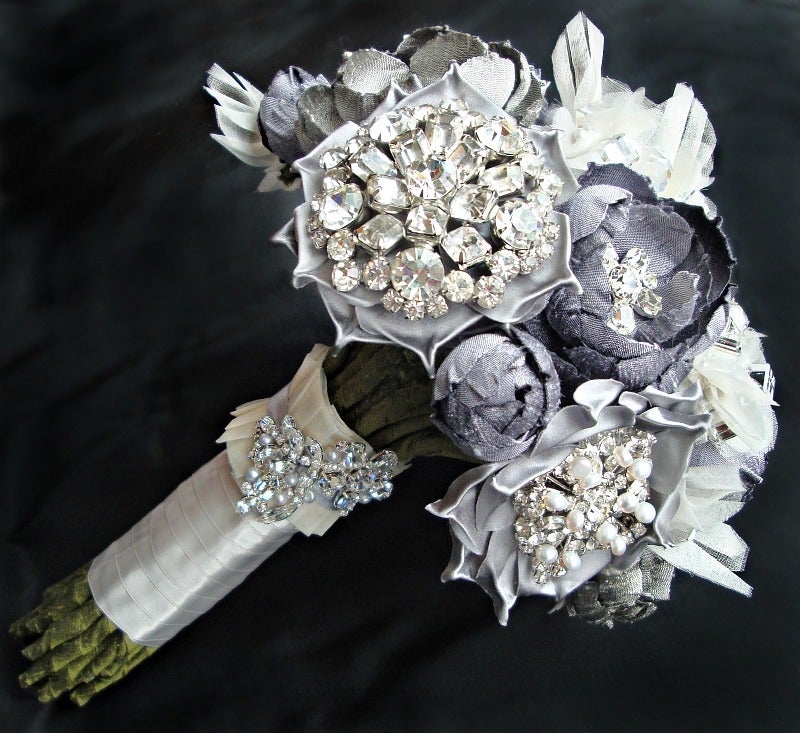 The look is quite deluxe and glamourous!